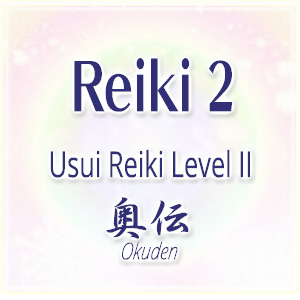 <Online class>
– Three Reiki 2 attunements
– Learn and practice the 3 Reiki symbols
– Reiki beyond time & space (Remote, past & future)
– Practical Reiki 2 techniques (western & traditional)
– Self-purification exercise
– Original Reiki 2 handbook
– Receive Reiki 2 Practitioner Certificate
At a Reiki 2 class, you'll receive three Reiki 2 attunements and your Reiki path becomes clearer. You'll also receive the three Reiki symbols for more focused, effective healing on physical, mental/emotional, spiritual healing. After Reiki 2, you'll be able to do remote, past & future healing and your own emotional & spiritual purification will be accelerated.
As you were encouraged to do self-Reiki & Hatsurei-ho everyday for at least 21 days after your Reiki 1, it is the same after Reiki 2, especially with the symbols. You can use the Remote technique to yourself, and to some unresolved issues in the past and present as well.
If you didn't take Reiki 1 at Shinka Reiki
If you have taken your Reiki 1 elsewhere or sometime ago, you are very welcome to take the [Brushup Lesson & Refresher Attunement] to review and cover the difference before proceeding to this Reiki 2 class (but not a requirement).
Book Your Private Class>>
3hrs/US$380