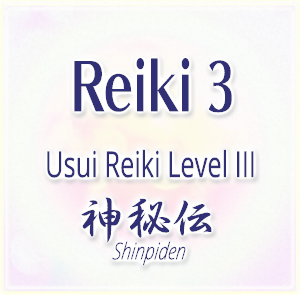 <Online class>
– Three Reiki 3 attunements
– Learn and practice the 4th (Master) Reiki Symbol
– Heart of Mikao Usui's teachings
– Exercise to connect with your pure soul (higher self)
– Reiki 3 techniques (Usui traditional)
– Reiki healing with the Master Symbol
– Original Reiki 3 handbook
– Receive Reiki 3 Master Practitioner Certificate
Upon taking the Reiki 3 class, you are..
– attuned to the highest level of Reiki vibration.
– more aware of being in the harmonious, loving energy with full of light.
– naturally more open to receive the messages from the higher-dimentional beings for your highest good.
If you didn't take Reiki 2 at Shinka Reiki
If you have taken your Reiki 2 elsewhere or sometime ago, you are very welcome to take the [Brushup Lesson & Refresher Attunement] to review and cover the difference before proceeding to this Reiki 3 class.
Book Your Private Class>>
3hrs/US$450